In 1845 with "no companions but my portfolio and box of paints, my gun, and a stock of ammunition" artist Paul Kane set out to explore a little known area called the Great Nor-West. Thousands of miles of rugged wilderness, now known as the Pacific Northwest, were a great mystery that Kane sought to capture before it was irrevocable changed by American westward expansion. Kane's works provide us with a clear vision of what this land and its people looked like before it developed into the place we know today.
Paul Kane was born in Mallow, County Cork, Ireland in 1810. He was the fifth of eight children to parents Michael Kane and Frances Loach. In 1820 his family moved to York, Canada, now known as Toronto. As a young man, Kane was fascinated by art. He studied painting at the Upper Canada College and was chosen to display some of his work at The Society of Artists and Amateurs exhibition in Toronto. After school he moved to Detroit, Michigan and spent several years traveling the United States and Europe, where he studied classical art and painted portraits for wealthy patrons. While in London he met George Catlin, an American artist who had painted Native Americans along the Great Plains. Catlin ardently believed that the Native American way of life was fast disappearing. He convinced Kane to capture this world before it was gone.
This became his mission at the age of 35 when he set out on the first of two trips westward. These trips changed the course of his life and inspired artists for the next century. On June 17, 1845 he departed from Toronto on an eight-month journey along the northern shores of the Great Lakes. When he reached St Sault Ste. Marie, he was told it was too dangerous to continue the trip alone. Undaunted, Kane arranged to travel with the Hudson's Bay Company, a fur trading company that operated about 100 remote outposts between the Great Lakes and the Pacific Ocean.
In May 1846 he departed from Toronto again and met up with the Hudson Bay Company's group near Fort William on the Kaministiquia River. He traveled by canoe along the Canadian waterways and stopped in Fort Frances in Ontario and Red River Colony near Winnipeg. With his transportation, food and lodging provided by the company, Kane focused on his art. Everywhere he went, he took pencil, watercolor and oil sketches of the terrain and wrote detailed accounts of the people he encountered.
On a three-week trip into Dakota Territory he witnessed one of the last great buffalo hunts, which became the subject for one of his famous paintings, Assiniboine Hunting Buffalo.
He accompanied a canoe brigade down the Columbia River until he reached Fort Vancouver in December 1846. This Oregon Territory outpost was the main trading post for the Hudson's Bay Company. With Fort Vancouver as a home base, Kane toured the surrounding areas to study the landscape and observe the Chinookan people and other tribes of the area. The painting A Chinook Traveling Lodge, with a View of Mt. Hood gives us a glimpse of native life along the Columbia River before American pioneer development. It depicts the temporary lodges set up by the Chinooks when they hunted, fished and traded with others. The lodges were easily dismantled and loaded into canoes for transport along the river. Another well-known painting, Flathead woman and child, is the combination of two field sketches taken during his time with the Chinookan people.
He returned to Toronto with over 700 field sketches and journal descriptions. This huge volume of material was the inspiration for over 100 large-scale oil-on-canvas paintings commissioned by his patron, George William Allan. He also published many of them in a book, Wanderings of an Artist among the Indians of North America: From Canada to Vancouver's Island and Oregon through the Hudson's Bay Company's Territory and Back Again (1859).
Historians have commented on the differences between Kane's field sketches and his oil paintings. They've remarked that Kane often changed historical details in favor of more dramatic scenes. In one instance, Kane painted Mount St. Helens erupting after a canoe trip up the Cowlitz River and overnight stay near the volcano on his way to Fort Victoria. However, Mount St. Helens actually erupted three years prior to Kane's visit. When he visited, it would have been gently smoking, instead of the fiery image depicted in his painting.
Today Paul Kane is remembered both as a talented artist but also as an explorer who gave us a lasting testimony to the culture and landscape of the Pacific Northwest in the late 19th century.
For more information about Paul Kane, please visit the National Gallery of Canada.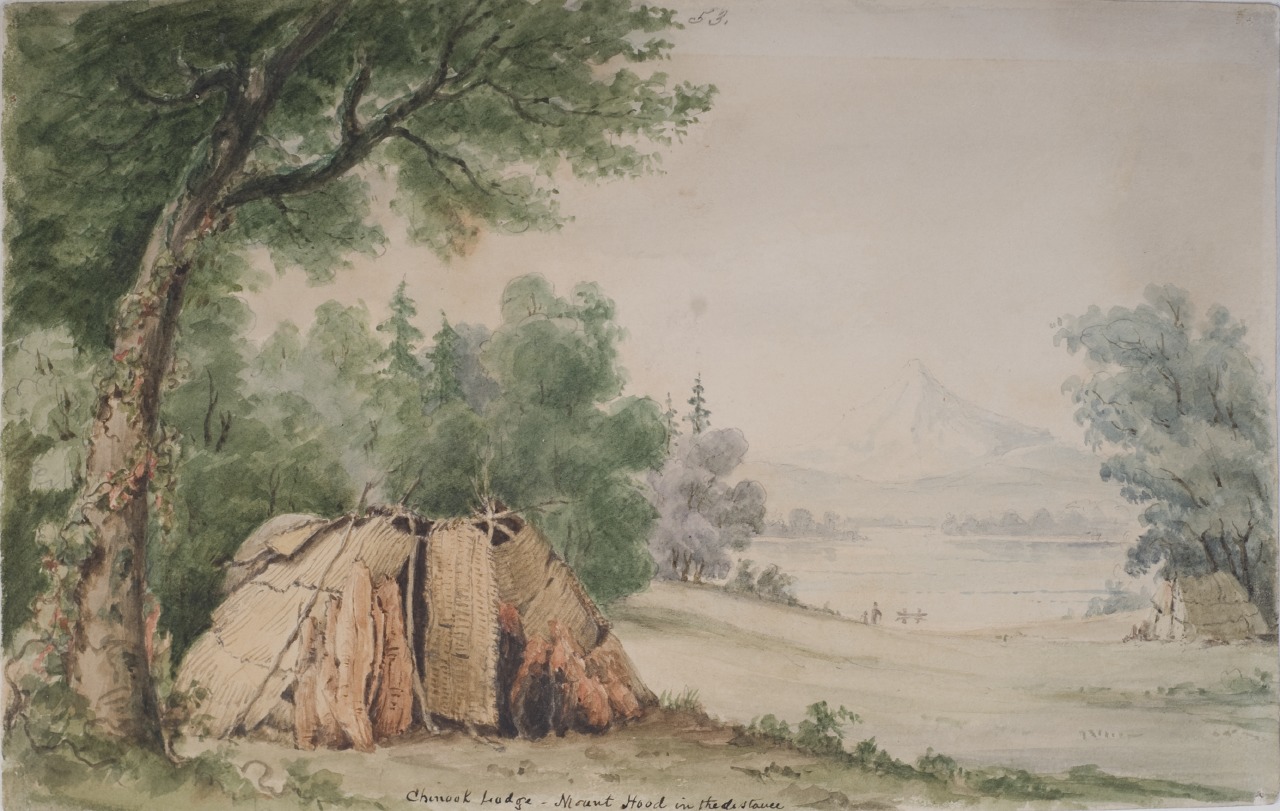 Paul Kane (1810-1871)
Chinook Traveling Lodge with View of Mount Hood
c. 1846-1847, watercolor and pencil on paper 5.625 x 9 inches Stark Museum of Art, Orange TX, 31.78.100