It's our nature to thrive.
One of the key aspects of the Port's mission is to stimulate economic development within the Camas-Washougal area. One way this is accomplished is by providing local businesses a location to grow and thrive. The Port maintains property throughout the area for various industries, which aid in the continued success of the community.
Clark Public Utilities' newest community solar project offers benefits and participation opportunities to all utility customers. This summer, a 799 kilowatt capacity solar array is being built across the rooftops of five buildings owned by the Port of Camas-Washougal. Community Solar East is expected to begin generating solar energy by January 2024.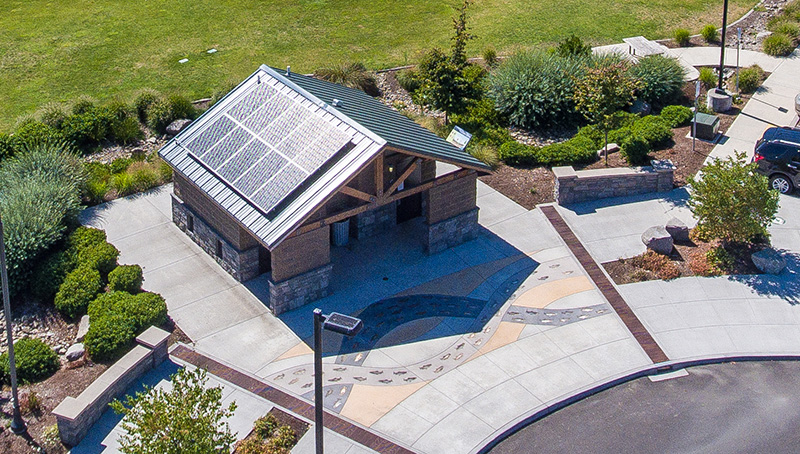 The founders of Grit Overland have a way of making you want to immediately pack your bag and sip a warm drink by a campfire. Dan, Jake, and Mark Dayley are not only building the next level of camper van, they happen to be some of the newest tenants in Building 20 in the Port's Industrial Park.
In 2019, Dan, his wife, Bekah and their oldest son built a camper van in their driveway with Jake's help. The first trip in their van (three weeks, five national parks) was a game-changer.
"It changed the way our family functioned," said Dan, "our kids stopped fighting… the experience of it changed the way our family talked to each other, and we (thought), people need to experience this."
And while they never intended to do complete builds, customers continued to ask, resulting in 18 full van builds in their first year of business (2019). Fast forward to 2022, and Grit Overland now has 14 employees and two shops, with their big focus being the expansion out to Building 20.
The COVID-19 pandemic helped Grit Overland grow significantly. But with the high demand during the pandemic, there also came the struggle of supply-chain issues. Like everything they've faced in their business, the team turned a challenge into an opportunity by designing and manufacturing their own products.
Grit Overland's vans beat their competitors in three major ways that are all centered around the concept of "four,"— four people, four-wheel drive and four-season insulation. The sleek, lightweight van is built on a welded aluminum frame which not only makes it compact and fast, it also ensures top-notch safety.
Spending "more days on the road" is the foundation of Grit Overland. High-end touches, flexible spaces and a pop-top allow you to be off-the-grid longer. A rapid-charging 10,000-watt power system (one hour charge time) and a compact built-in shower increase creature comforts in the great wide open.
Their move to The Port was motivated by home. All three of the owners live in Washougal and enjoy being close to the Columbia River. If adventure is calling your name, Grit Overland is here to help you go farther and stay longer without compromise.