It's our nature to thrive.
One of the key aspects of the Port's mission is to stimulate economic development within the Camas-Washougal area. One way this is accomplished is by providing local businesses a location to grow and thrive. The Port maintains property throughout the area for various industries, which aid in the continued success of the community.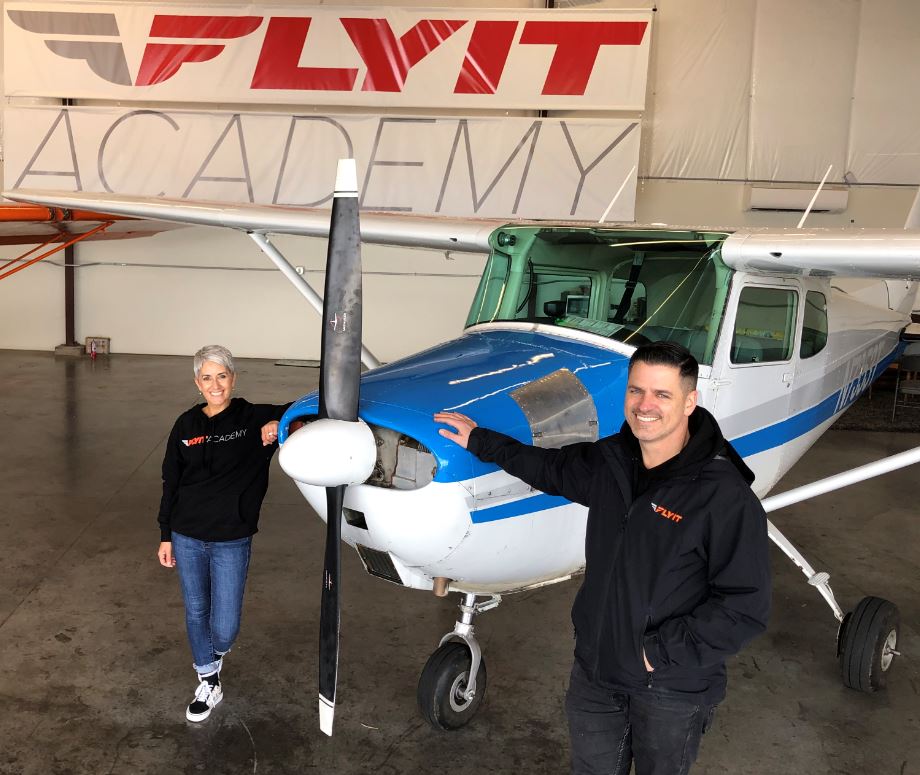 Rick Anderson, owner of FlyIt Academy, has loved flying since he built his first control line airplane with his father at age 9. The first time the engine started, and he had control of the plane, Rick was hooked. He became, in his words, "a nerd for airplanes." Growing up, he spent all his free time building radio control planes with his friends.
Rick dreamed of having a career as a pilot, but coming out of high school, he found the expense of schooling was prohibitive. He followed a different career path but kept that dream of flying in the back of his mind.
A few years ago, while Rick was visiting his sister's family here in the Camas area, his brother-in-law took him to a Wheels & Wings event at Grove Field. Rick was entranced by the sea of planes and classic cars and the warm atmosphere of this community event. It was at this event he saw "Learn to Fly" on the side of hangar E-01. It felt like a sign and renewed his dream of flying. Soon after, Rick and his family moved to Camas from Southern California. An opportunity to go to ground school at Grove Field opened, but timing didn't feel right to Rick. He told his wife he was going to pass on it. She looked at him and said, "Honey, if you don't show your kids how to pursue a dream, how will they know how to pursue their own?" That was it. He signed up for ground school the next day.
Rick found the community at Grove Field and the flight school to be very supportive. People were happy to share knowledge and the school was not just teaching him how to fly a plane, it was truly teaching him the art of flying and the responsibility of being a pilot.
When the flight school at Grove Field was listed for sale in early 2018, Rick briefly thought of making an offer, but it seemed too crazy an idea. The missed opportunity stuck with him and when the school went back on the market in 2019, Rick stepped in to purchase the school and re-opened it as FlyIt Academy in August 2019.
Since FlyIt has opened, the growth has been phenomenal. In the short time Rick has been a resident of Camas, he has seen his dream come true and grow into a career he truly loves. In just 19 months, the school has gone from one instructor to a team of six, and Rick has expanded to open a maintenance department with the help of Steven Griffin, a gifted and experienced aircraft mechanic.
FlyIt Academy is a community of pilots passionate about general aviation. They are devoted to transforming dreams of flying into reality by teaching the art of aviation. Everyone who is interested in learning that art is welcome. Their focus is people, caring about the individual person more than the financial bottom line. Quoting his own aviation mentor, Rick says with every flight, there should be three goals: to learn a little something, have some fun, and not break the airplane.
COVID-19 created a fantastic challenge for FlyIt. Before COVID hit, Rick was in the market to add a second plane to the school. He found the right plane, but the day he purchased it in March 2020, the whole world shut down. Luckily, within weeks, flight schools were deemed essential business to keep up with pilot certifications. FlyIt Academy reopened in April of 2020 with COVID precautions in place and clear communication with staff and students. The biggest challenge was finding an instructor who felt comfortable coming back. Once he was able to secure a pilot, instruction began again, albeit slowly to start. Once the stay-at-home orders were lifted, students and instructors came back in increasing numbers. People were hungry for activities after staying at home for so long. So, while it wasn't as busy a year as was previously forecasted, growth continued.
Being a visionary and dreamer, Rick is looking to the future and what it holds for Flyit. He wants to grow the business as much as possible without losing heart. The vision of Flyit is to become a greenhouse for general aviation and become a business of transformation. Transforming people's lives and assisting with efforts to transform the aviation industry. He would like to see there be enough jobs created in the industry where anyone who wants a career in general aviation can work in the field. Rick is looking forward to partnering with local schools once it's safe to do so, volunteering to introduce kids to the art of aviation and providing mentorship.
When asked what advice he has for someone who's interested in aviation but not sure how to start, or where they fit in, Rick advised that a person should take a discovery flight. It is an economical way to get a taste of flying without a larger financial and time commitment.
"Most flight schools have a rigid price and schedule structure. Keeping our "people first" mentality, FlyIt works with potential students and their needs. We ask anyone who wants to learn four things: what is your budget, what is your timeframe, what is your lifestyle, and how do you learn? The answers to these questions allow us to tailor an education program which meets the students needs in all of these areas. "
Rick has created a flight school with heart, where instructors love what they do and support each other and their students. Creating this healthy and community-focused environment within a business which is typically individually focused has been his ultimate goal.
Rick credits much of his success with flying and the business to timing. What began as a seed of interest in the mind of a 9-year-old, evolved into becoming a pilot at age 43 and owning a flight school at 47. Rick is proof that it is never too late to pursue your dreams.