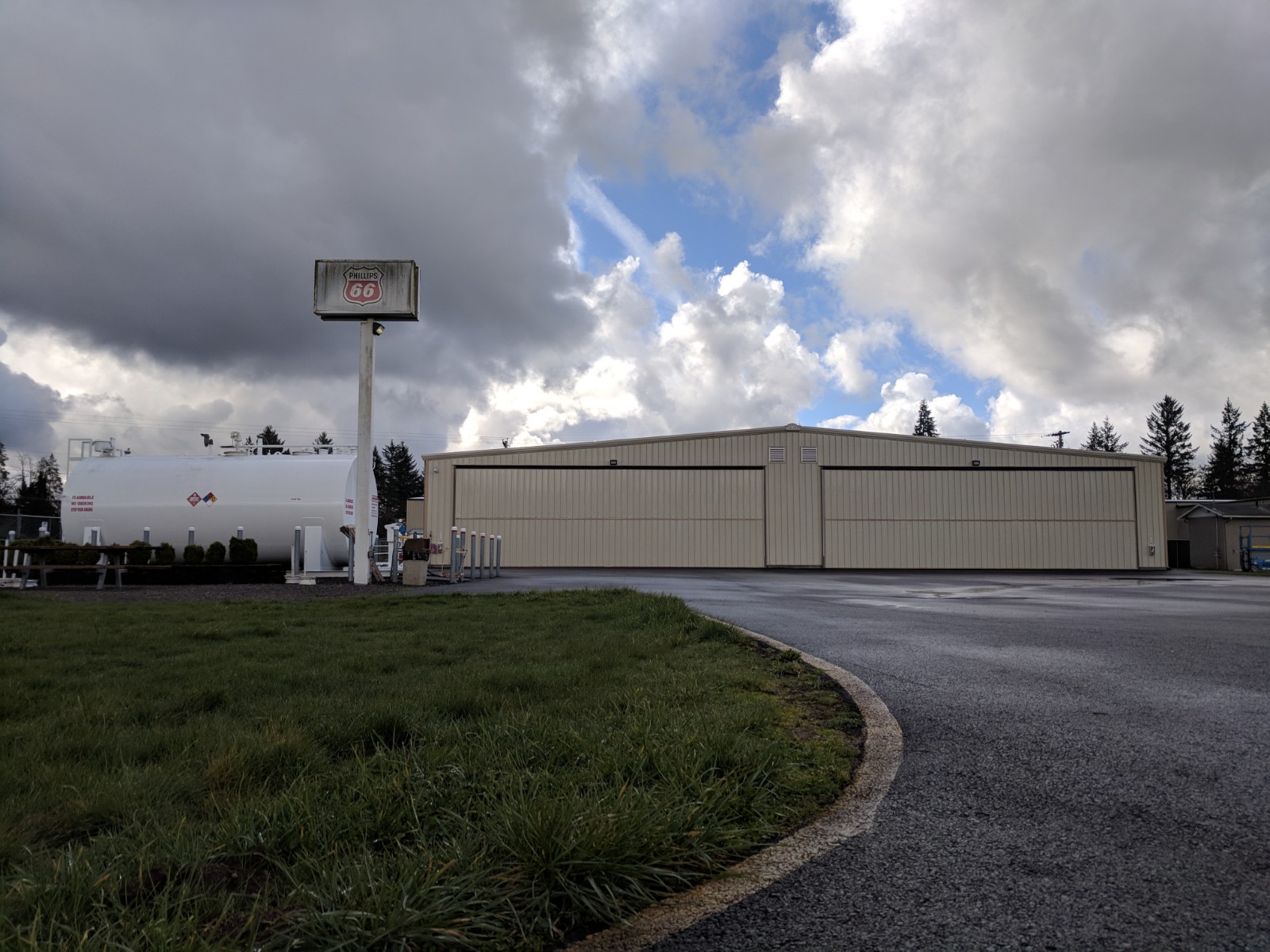 The Port of Camas-Washougal offers 77 hangars and 14 tie-downs for lease. A 2-month minimum lease period is required, and month-to-month thereafter. The commission reviews hangar and tie-down rates annually, with any adjustments effective the following January 1.
There is currently one  3,000 sq ft hangar space available for commercial use (see picture to left).  Please contact (360) 335-3684 for more information.
To learn more about leasing a hangar or tie-down, please call the port office (360) 835-2196 ext. 103 during regular business hours.
2 MONTH MINIMUM LEASE REQUIRED
| Hangar | Base | LHT | Total |
| --- | --- | --- | --- |
| A-1 | $194.08 | $24.92 | $219.00 |
| A-2 thru A-9 | $185.00 | $23.75 | $208.75 |
| A-10 | $194.08 | $24.92 | $219.00 |
| B-1 | $229.09 | $29.41 | $258.50 |
| B-2 thru B-9 | $210.70 | $27.05 | $237.75 |
| B-10 | $229.09 | $29.41 | $258.50 |
| C-1 thru C-8 | $331.44 | $42.56 | $374.00 |
| D-1 | $248.36 | $31.89 | $280.25 |
| D-2,4,6,8 | $234.18 | $30.07 | $264.25 |
| D-3,5,7,9 | $229.09 | $29.41 | $258.50 |
| D-10 | $254.56 | $32.69 | $287.25 |
| E-1 | $308.18 | $39.57 | $347.75 |
| E-2 thru E-14 | $278.49 | $35.76 | $314.25 |
| E-15 | $308.18 | $39.57 | $347.75 |
| F-1 thru F-10 | $323.69 | $41.56 | $365.25 |
| G-1 thru G-7 | $323.69 | $41.56 | $365.25 |
| H-2,4,6 | $323.69 | $41.56 | $365.25 |
| H-1,3,5,7 | $331.44 | $42.56 | $374.00 |
| Tie-Down | $46.75 | $6.00 | $52.75 |
The Port currently has no vacancies for hangars. We invite you to join the waitlist by filling out the following application form and submitting your $25 waitlist fee. The Port has a 2-month minimum lease that will start the day you accept a hangar. You will have 24 hours to accept the available hangar via phone or email. You will be offered a hangar a total of three times before being removed from the waitlist: