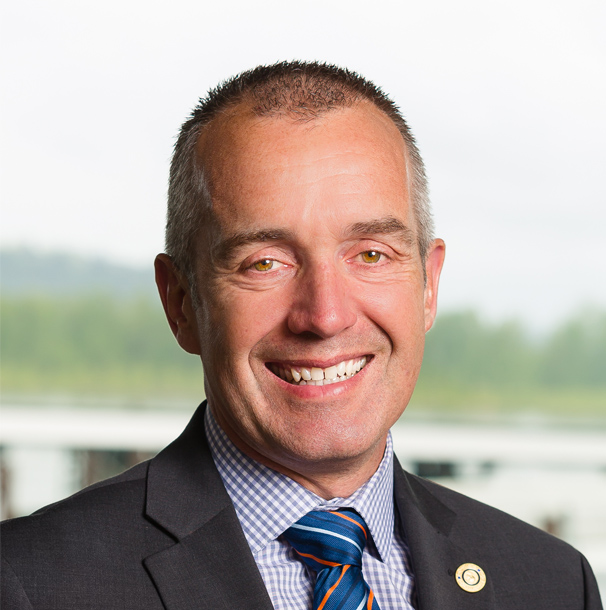 David Ripp joined the Port in January 2008 as Chief Executive Officer.  He brings to The Port over 24-years of Port leadership experience. Mr. Ripp is responsible for the strategic direction for the Port of Camas-Washougal, as well as creating a vision of success.
Kim joined the Port in April 2007. Her education and 25+ years of experience in public service are assets to the Port. As Chief Operating Officer, Kim is responsible for the growth and profitability of The Port.
Kim Noah
Chief Operating Officer
(360) 835-2196 ext. 111 |
email
Mark joined the Port in June of 2017 as the Project Manager. Mark's extensive construction experience and over 13 years of public service make him a valuable asset to the Port team. His responsibilities include permitting, implementation and delivery of capital projects, contract policy, budgeting, project estimating and coordinating major aspects of construction project management.
Mark Miller
Director of Planning and Development

(360) 835-2196 ext. 113 |
email
Eric joined the Port in November 2010 in the position of Maintenance Assistant, bringing a background in general construction and HVAC and he currently holds the position of Facilities Manager. In 2013, Eric was given the added responsibility of overseeing and maintaining all heating/cooling services in Port-owned structures.  Eric is an invaluable team player.
Eric Plantenberg
Facilities Manager
(360) 835-2196 ext. 106 |
email
Kyle joined the Port team in August 2015, in the position of Accounts Payable, IT support and managing social media. Kyle graduated from WSU, with a minor in Communications and a major in Digital Technology and Culture. With 8+ years of customer service as well, he is a valuable addition to our team.
Kyle Chinn
Accounts Payable & IT Specialist

(360) 835-2196 ext. 107 |
email
Krista joined the Port in October of 2017. The Central Washington University graduate has over 12 years of experience in Accounting. She is responsible for the Port's bank reconciliation, financial statements, internal audits and all payroll functions. She also provides support to the Chief Operating Officer and assists with the annual state audit. Her attention to detail makes her invaluable to the Port.
Krista Cagle
Assistant Finance Manager
(360) 835-2196 ext. 105 |
email
Sadie joined the Port team in January 2018. With over 16 years of event planning and customer service experience, the Washington State University graduate brings a breadth of knowledge, personalized service and enthusiasm to the position. Sadie handles event planning, community outreach, marketing, social media, press releases, newsletters and assists with moorage and hangar leases.
Sadie Hayes
Community Relations Specialist

(360) 835-2196 ext. 103 |
email
Jen joined the Port in June 2006. As Accountant, she handles accounts receivable, payroll and other related duties. In 2008, she took on the additional responsibility of Human Resources and currently leads the Port's Safety Team. Jen's high standards and attention to detail – critical in these important roles – serve the Port well.
Jen West
A/R & Human Resources Manager

(360) 835-2196 ext. 100 |
email
Derek joined the Port September 2019 as Business Development Manager. He brings a diverse background with over 15 years business development, research, and marketing experience in Industrial Real Estate and Aviation. His responsibilities include managing current and new tenants, community outreach, and business development opportunities for Port operations.
Derek Jaeger
Business Development Manager
(360) 835-2196 ext. 114 |
email
Debra joined the Port in 2001 and has continued to grow professionally within the organization with her experience and attention to detail. Debra is the Contract Manager for the Port and manages all contracts and their supporting documentation for all state and federal requirements.
Debra Itzen
Contract Manager
(360) 835-2196 ext. 104 |
email
Mike Baldwin joined the Port in October of 2019 in the Maintenance Department. Prior to coming to the Port he served four years in the United States Marine Corps followed by five years in the construction industry as a framer and concrete finisher.  His skill and experience add greatly to the maintenance team.
Mike Baldwin
Maintenance II
Mark joined the Port in 2005, in the role of Maintenance Assistant. Promoted to Harbormaster in 2007, he works in the Marina area, checking the docks and boats, overseeing the trailer parking area, responding to tenants' needs, and maintaining a safe and secure marina for the public to enjoy.
Mark Hamrick
Harbormaster

(360) 835-2196 ext. 108 |
email
Doris joined the Port in 1999. She is directly responsible for the manicured lawns, the seasonal flowers, and the tidy look of the Port's property – at the Marina, Parker's Landing Historical Park, the Airport, the Industrial Park, Capt. William Clark Park, and Steigerwald Commerce Center. Doris' skills have helped make the Port a destination spot for many in the community.
Doris Tillman
Lead Grounds & Facilities Maintenance

Zach Jones joined the Port in January 2019 in the maintenance department.  He has worked in the billboard industry for 18 years building and maintaining with steel construction and lighting and was a crane operator for six of those 18 years. He also spent 3 years in general construction roofing, framing and remodeling.
Zach Jones
Maintenance III
Travis has been a familiar face on the launch ramp for the last dozen years. Hired full-time in January 2016, he joins the maintenance staff in a supporting role performing light maintenance. Travis is based in the Industrial Park. His background in security at local schools and experience in dealing with the public are valuable assets for the job.
Travis Edwards
Maintenance II

Alex Foyt joined the Port in April of 2019 as a Maintenance I, and is now the Asset & Safety Specialist.  Alex will be stationed in the Industrial Park and will be conducting maintenance at all operating areas for the Port.  Alex brings equipment operation and maintenance knowledge with him, and is an asset to the team.
Alex Foyt
Asset & Safety Specialist
Matt joined the Port in May of 2013 in a permanent part-time maintenance position and moved into full-time as of January 1, 2015. He assists the Harbormaster in the Marina checking the docks and boats and responding to tenants' needs. Matt also offers his expertise as an arborist and assists with all areas of maintenance.
Matthew Cox
Assistant Harbormaster// Maintenance II
James Phillips joined the Port in January 2019 in the maintenance department.  Prior to coming to the Port, he started his career in large production machine manufacturing and enjoyed several more years in the fire service before becoming a diesel mechanic.  We are excited to have him aboard.
James Phillips
Maintenance III
Kurt LePoidevin joined the Port in August 2020 and is the newest member of the team.  His previous experience with farm maintenance, mechanical knowledge, as well as an abundance of energy made him the perfect addition to the Port.
Kurt LePoidevin
Grounds Maintenance Worker