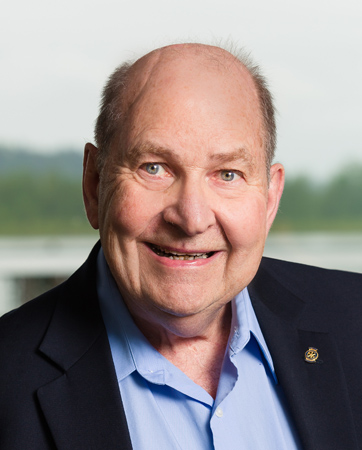 Washougal, Wash. – December 9, 2019 – The Port of Camas-Washougal recognizes the service of Commissioner Bill Ward on Monday, December 16, 2019 after the adjournment of the regularly scheduled board meeting.
Following a long career of public service and effective leadership, Port of Camas-Washougal Commissioner Bill Ward of District No. 2, will be departing as Commissioner as of January 1, 2020.
Ward has been a Commissioner since 2008, and is a professional engineer who owns and operates a consulting engineering business with clients throughout the U.S.
"Commissioner Ward not only has years of outstanding service to the Camas and Washougal communities, but has provided strategic leadership through the early days of the waterfront development and has continued to provide valuable counsel to the board and our staff," said CEO Ripp. "I want to publicly thank Commissioner Ward for his service and dedication to serving our community and helping grow our economy through economic development."
In addition to Commissioner Ward's service to the Port, he has been a member of the Camas-Washougal Rotary Club for 24 years and active with the Columbia River Economic Development Commission, Camas-Washougal Economic Development Association, Washington Public Ports Association, East Vancouver Business Association and the Camas-Washougal Chamber of Commerce.
"Those of us that know Commissioner Ward personally, admire him not only for his business efforts, but also for his personal lifetime values and dedication to community," Commission President Larry Keister said. "I wish Bill well and am confident the community will continue to benefit from his valued leadership."
Come join the Port of Camas-Washougal in celebrating his 12 years of service to the community with some cake and good wishes.