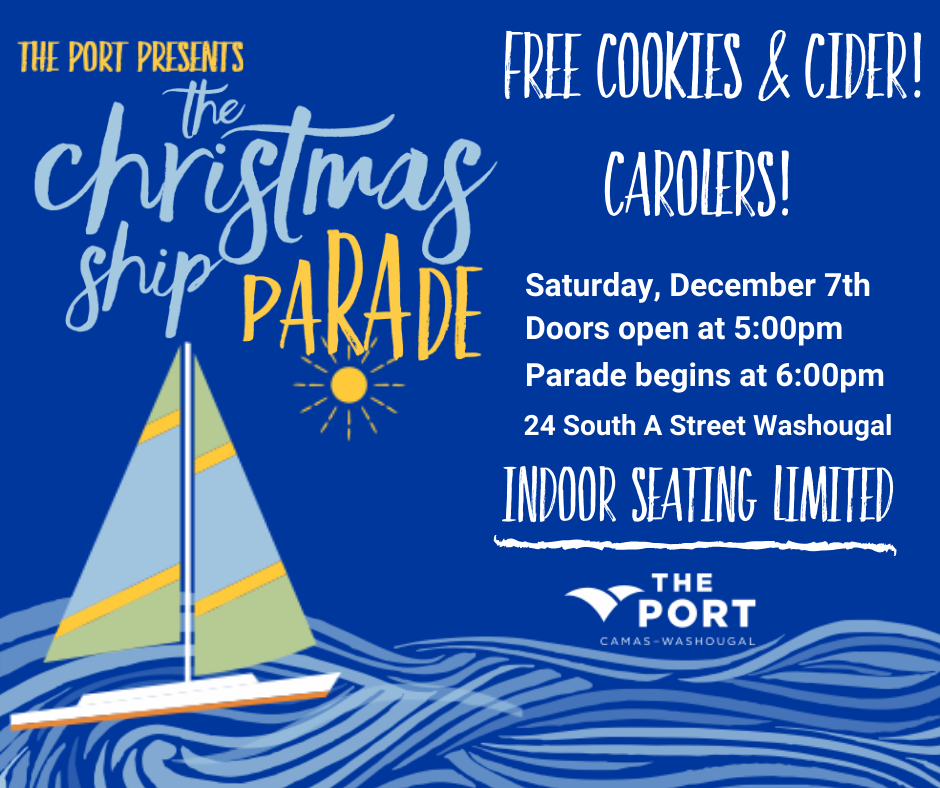 Washougal, Wash. – November 21, 2019 – The Port of Camas-Washougal welcomes the return of the Christmas Ships Parade for its annual appearance at Parker's Landing Marina on Saturday, December 7, 2019.
Come join the Port of Camas-Washougal in celebrating the holiday season with the 65th Annual Christmas Ships Parade on the Historic Columbia River! The Port will host a special performance of up to 30 decorated vessels on Saturday, December 7, 2019 at 6:00pm. Enjoy the festivities in the warmth of the Port's Meeting Room where free hot cider and cookies will be served, carolers from Washougal High School will be singing and merriment abounds.
This year the first 100 children will also receive a FREE book courtesy of Printforia, a Port tenant in the Industrial Park. Bring your family and friends for some holiday cheer. Doors open at 5:00pm.
About the Port
The Port of Camas-Washougal makes strategic investments in parks and infrastructure to grow the local economy while preserving the quaint, small-town feel residents and visitors have come to love. 19 miles of trails connect Camas and Washougal to local waterways such as LaCamas Lake, Columbia River, and Washougal River. Expansive views, self-guided cultural tours, local shops, eateries, and an abundance of recreational amenities make the communities of Camas and Washougal an ideal destination for a weekend getaway.