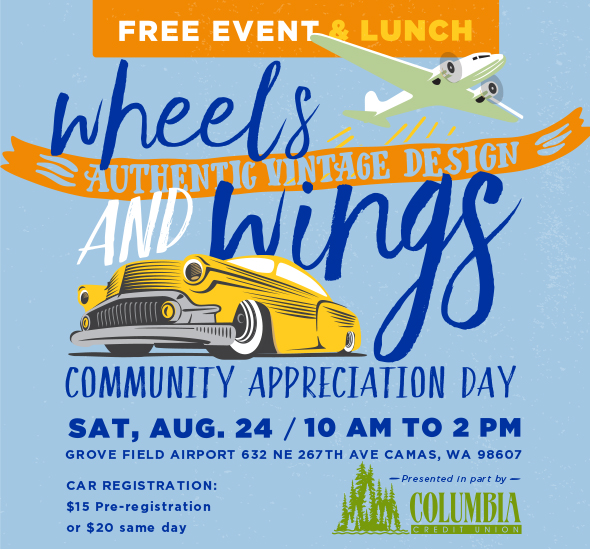 Washougal, Wash. – July 23, 2019 – The Port of Camas-Washougal today announced it will hold its annual Wheels & Wings / Community Appreciation Day at Grove Field Airport on Saturday, August 24, 2019 from 10 am to 2 pm.
Free gate admission and free hot dogs, chips and sodas are being provided at this annual event created by the Port to show appreciation to the community for their involvement and support.
Live music by the Fabulous Fairlanes and trophies add to the fun of the cruise-in where classic cars and vintage airplanes and antique tractors will be on display.  Car show entrants will receive a $5 discount for pre-registration before the event date.  The fee to register on August 24th will be $20 per vehicle.  Voting in several categories by event attendees and sponsors.  Votes will be tallied and trophies awarded at 1:30 p.m.
Vehicle Registration Form Available Here
All donations support the Camas Washougal Aviation Association's scholarship fund.  Watch the Port's Facebook page and other media for details.
About the Port
The Port of Camas-Washougal makes strategic investments in parks and infrastructure to grow the local economy while preserving the quaint, small-town feel residents and visitors have come to love. 19 miles of trails connect Camas and Washougal to local waterways such as LaCamas Lake, Columbia River, and Washougal River. Expansive views, self-guided cultural tours, local shops, eateries, and an abundance of recreational amenities make the communities of Camas and Washougal an ideal destination for a weekend getaway. For more information, visit portcw.com. It's our nature to explore.